1. Darwin
The capital of Northern Territory, Darwin is the base for incredible natural attractions such as Kakadu and Litchfield National Park. You can travel along the Arnhem Highway into Kakadu, or visit the Territory Wildlife Park closer to town. The weekly markets are a perfect position for the beach sunsets and attract plenty of locals and tourists. There are fantastic bike tracks along the coastal road into Darwin city, which has become a vibrant and relaxed holiday destination.
2. Kakadu National Park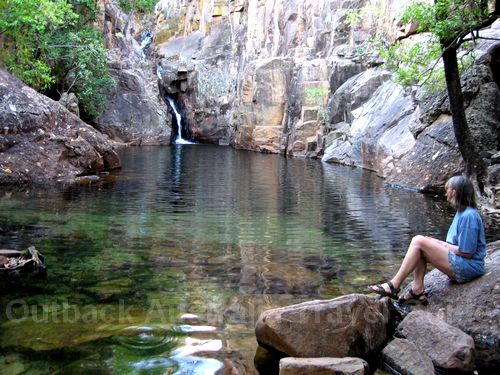 There is no place like Kakadu. With an abundance of wildlife, including crocodiles of course, and birdlife, you will need a week to enjoy all this region has to offer. Located east of Darwin, the stunning wetlands, Aboriginal art sites and magnificent scenery will keep you enthralled, and there are fantastic, safe camping grounds throughout the area. Yellow Water is popular for croc spotting, as well as the stunning Jim Jim and Twin Falls. This is an Aussie top spot you won't want to miss.
3. Katherine
Katherine is an ideal base for its nearby majestic attractions, and is the biggest town between Darwin and Alice Springs. Katherine Gorge has swimming holes, walking tracks and waterfalls. Canoeing is safe as there are no crocodiles and is one of the best ways to see the Gorge at its best. The thermal pools of Mataranka, located 100km south of Katherine, are a welcome spot to relax and unwind in the hot springs. There is also amazing scenery at Keep River National Park. Truly an oasis in the desert.
4. Alice Springs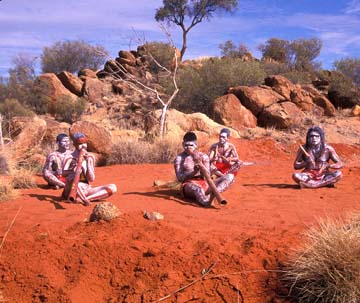 Known as the Alice, this isolated town in central Australia is a stone's throw from the stunning East and West MacDonnell ranges and many natural attractions. Often used as a base to explore the rugged horizons, there is still so much to see within its borders. The Alice Springs Desert Park is a must, as well as the Frontier Camel Farm. Also known for the Henlen-on-Todd Regatta, which is a boat race without water, it is a unique town which will keep you captivated.
5. East MacDonnell Ranges
Not a far distance from Alice Springs, you will find the East MacDonnell Ranges. There is so much to see in this beautiful region and there are plenty of bushwalking trails that will take you to some incredible viewpoints. The Trephina Gorge Nature Park has a number of walks and amazing scenery, and you can camp here if you like. Further along is the Ross River Homestead where you can rest in comfort, and you have the choice of horse or camel riding for some more adrenaline. This is the most accessible of the ranges and a 'must do' especially if you are already in Alice Springs.
6. West MacDonnell Ranges
West from Alice Springs are the amazing Western MacDonnell Ranges. You could spend weeks here and still not see everything. The Desert Wildlife Park is one of the first attractions you will come across, followed by Simpsons Gap and the Standley Chasm which is worth a visit if you can. The Wallace Rockhole is a a great place to see Aboriginal rock followed by the Finke Gorge National Park. The rest of this region is spectacular, but you need to hire a 4WD.
7. Finke Gorge National Park
Located about two hours drive west of Alice Springs, this oasis can be visited as a day trip, but is best to stay for a few days with the Palm Valley camping ground as a base. Palm Valley is best known for its many palms and lush vegetation. The Gosse Bluff Reserve is also worth a visit as it is the site of crater and well known internationally. There is also a fantastic bushwalk which leads to Karalanga Lookout, and the Mpaara Walk give you a fascinating look at the Aboriginal culture, which is ever present in this region.
8. Simpson Desert
Although vast, remote and mostly inaccessible, the fringes of the mighty Simpson can still be reached from the Alice as a day trip. There is some spectacular scenery, including Rainbow Valley in the James Ranges, and Chambers Pillar known for its Aboriginal carvings. For the adventurous, tours are available further into the desert to visit desert communities. There are bushwalking and camel treks, as well as 4WD treks available. This is one of the most untouched and isolated places in the world, and a true hot spot.
9. Tennant Creek
A few hours north from Alice Springs is the friendly town of Tennant Creek. An ex gold mining town, there is a lot of history and opportunities to do some fossicking. There are plenty of attractions outside of town too. The famous Devil's Marbles are about 100km south from Tennant Creek. The Barkley Tablelands also surround the town, with cattle stations dominating the landscape, and plenty of beautiful scenery in every direction.
10. Barkley Tableland
If you are looking for big skies and far horizons you will find them here. Located east from Tennant Creek towards the Queensland border, the Barkley Tableland does not have many facilities for tourists. It is almost all cattle stations and long stretches of uninhabited land, but the remoteness of this area still draws many travellers to experience its remoteness, sunsets and rugged beauty. The only main tourist stop is the Barley Homestead, which also offers camping facilities and is a great place to get to know the locals.
11. Litchfield National Park
This is the day trip with a difference, and is certainly one of the Territory's hidden treasures. Everything you would expect to see at the Top End seems to be compacted into one gorgeous area, with waterfalls, plunge pools, termite mounds dotted along the drive into the Park, and thick rainforests in every direction. The Butterfly and Bird Farm is a great place to visit at Batchelor, the closest township to Litchfield. As it is only ninety minutes from Darwin, you will be glad you added this region to your itinerary.
12. Mataranka
An easy drive south from Katherine, Mataranka is known for its thermal pools, and travellers visit from all over the state to experience the warm, clear waters. It is one of the most pristine environments you could encounter, with palms and trees lining the pools and softening the suns rays. There is a place to sit and unwind for everyone, as there are a number of pools to choose from. Elsey National Park is also in this area, with the Mataranka Homestead a favourite tourist spot. Bitter Springs is not as well known, but is located north of Mataranka.
13. Adelaide River
Most people are familiar with the cruises that entice a crocodile into the air with a piece of meat. This is where it happens. Located just off the Arnhem Highway and just an hour South of Darwin, there are a number of cruises to choose from, and there is so much to see. There is plenty of birdlife and stunning scenery along the Adelaide River which stretches for miles. This is a spot you really need to include in your Top End itinerary.
14. Berry Springs
Berry Springs is such an easy day trip from Darwin that you need to take the trip, just for the experience of the cascading rock pools and crystal clear springs that are like an oasis in the desert. Bring your goggles as there are plenty of small fish (no crocs!) that nibble at your feet. Many travellers leave in the morning, picnic at the pools and return at dusk as there is so much to see in this one area.
15. Territory Wildlife Park
If you have never been to Darwin before, this is the best way to introduce yourself to the Top End wildlife, birds and reptiles. You need at least half a day to see everything, as the number of exhibits is extensive, with a number of shows and displays that all have to be seen. It is located in the same area as Berry Springs, just under an hour from Darwin and is an amazing experience.
16. Seven Spirit Bay
This would have to be one of the most remote regions in the world, yet is listed for the sake of its sheer beauty and vastness. Located in Arnhem Land, on the Cobourg Peninsula, there is only a wilderness lodge to stay in which is accessible only by plane. There is birdwatching, fishing and bushwalking available, and the sunsets are unbelievable.
17. Arnhem Land
This is the real Top End. Most of this land is owned by the aboriginals, but there are still sections that can be visited which are beautiful. The East Alligator River, Cobourg Peninsula and Gove are all worth visiting, as is the drive from Kakadu to Oenpelli. You will need to get a permit to get through to the Cobourg Marine Park and Gurig National Park, but if you have the time to visit this untouched, unique region of Australia it will be well worth it.
18. Simpson Desert
Great for a day trip from Alice Springs, the Simpson Desert has red dunes that seem to go on forever. You can not see too much of the desert except by 4WD, unless you have planned a trek through the desert. The Old Ghan Heritage Track follows the train tracks left by the Ghan, and has plenty of fascinating viewpoints. You also can't miss the Rainbow Valley, named for its rainbow colours that stretch out like bands. This is one of the most isolated but well known spots in the Territory, and there is so much you can see in a few day trips from Alice.
19. Ayers Rock (Uluru)
Towering majestically out of the red desert floor, Ayers Rock is known world wide as a symbol of the Northern Territory. There is nothing like the colourful sunsets and sunrises that change by the second, and the climb to the top is worth it although it is very steep at times. You can fly from Alice Springs or drive over 300km passing excellent scenery. There is a cultural centre at the base of Ayers Rock, and plenty of resorts and camping sites for the many tourists that flock to the area.
20. The Olgas
Located about 50 kilometres from Ayers Rock, many compare the stark beauty of these rock formations to the wonder of their great neighbour, and they are just as majestic. With walks available through the gorges and outcrops, it is well worth squeezing in a visit here if you are in the area. This region is a photographers paradise, and all the information you need can b
e found at the cultural centre at Ayers Rock.
21. Kings Canyon
As impressive as it sounds, Kings Canyon is located in the Watarrka National Park and offers majestic scenery. The walk around the canyon can take a couple of hours, but is worth it as you will visit the Garden of Eden pools, and rock formations called the Lost City. There are certain times of year this walk should be attempted, but the incredible views from the canyon make it worth planning into your vacation if possible. The walk into the canyon only takes an hour.